Celebrating Father's Day with Powerful 24K Gold Jewelry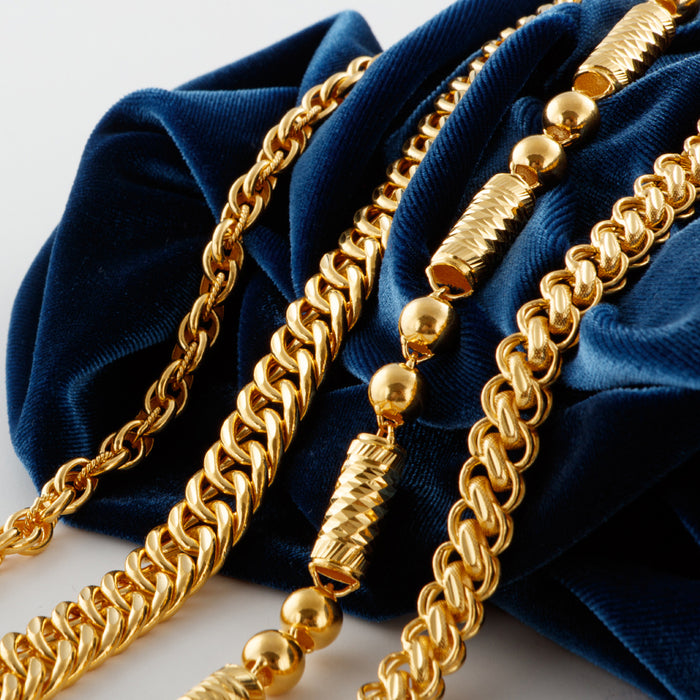 Father's Day is a special occasion to honor and express our deep appreciation for the incredible men who have played a significant role in our lives. This year, let Lao Feng Xiang Jewelry help you make this Father's Day truly memorable by gifting dad a piece of luxury that reflects his remarkable qualities and celebrates the enduring bond you share. Our collection of exquisite 24K gold link necklaces, bracelets, pendants, and rings is the perfect way to express your love and admiration for your father.
When it comes to necklaces, the elegance and sophistication of link designs make them a popular choice. At Lao Feng Xiang, we offer a stunning range of link necklaces crafted from pure 24K gold. Whether your dad prefers a classic rope chain, the complexity of a Byzantine design, the boldness of a Cuban link, or the timeless appeal of a curb chain, we have a style to suit every taste.
To add a touch of symbolism to your Father's Day gift, consider our meaningful pendants. Our collection features intricately crafted Guanyin and Buddha pendants, symbolizing blessings, compassion, and enlightenment. These divine pendants serve as a reminder of the values your father has instilled in you and the guiding principles that have shaped your life.
In Chinese culture, the dragon is a symbol of power, strength, and good luck. Our dragon signet rings beautifully capture these qualities and make a stunning addition to your father's jewelry collection. Crafted with meticulous attention to detail, these rings are crafted from the finest materials and are designed to be treasured for generations.
Your father is a pillar of strength and guidance in your life, and he deserves nothing less than the finest quality jewelry to commemorate this special occasion. Lao Feng Xiang Jewelry takes pride in using only the highest quality materials and craftsmanship in every piece we create. Our 24K gold and jewelry is designed to last a lifetime, ensuring that your father can enjoy his gift for years to come.
This Father's Day, go beyond the traditional gifts and surprise your dad with a piece of luxury jewelry from Lao Feng Xiang. Our stunning collection of 24K gold and platinum link necklaces, bracelets, pendants, and rings allows you to find the perfect expression of your love and appreciation. Show him how much he means to you by giving him a gift that will be cherished forever. Celebrate Father's Day with Lao Feng Xiang Jewelry and make this occasion truly unforgettable.