18K Rose Gold Daily Dose
Indulge in the timeless allure of Daily Dose Rose Gold jewelry by Lao Feng Xiang. Our exquisite collection of fine jewelry combines the warmth of rose gold with the brilliance of diamonds, creating a harmonious blend of elegance and sophistication. Whether you're searching for the perfect gift or indulging yourself, our Daily Dose Rose Gold collection offers affordability without compromising on quality. Explore a range of beautifully crafted rings, necklaces, earrings, and bracelets, each designed to elevate your style and celebrate the enduring beauty of rose gold. Discover affordable luxury and timeless charm with Lao Feng Xiang Daily Dose collection.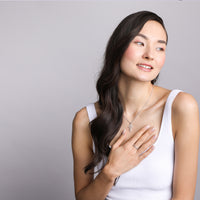 18K White Gold Diamonds
Elevate your style with the pristine beauty of Daily Dose
White Gold jewelry from Lao Feng Xiang. Our collection of fine jewelry showcases the classic elegance of white gold combined with the brilliance of diamonds. Each piece is carefully crafted to exude sophistication and refinement, making it a perfect choice for any occasion. Whether you're looking for a stunning necklace, a pair of elegant earrings, or a timeless ring, our Daily Dose collection has something to offer. Experience the luxury of white gold without the luxury price tag and embrace the enduring charm of white gold
jewelry. Explore our collection and discover the perfect piece to complement your style.
18K White Gold and Diamonds