China's Oldest Jewellery Company: Lao Feng Xiang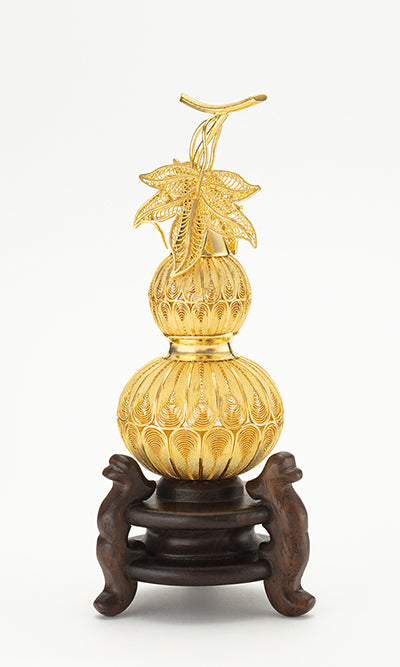 From Vancouver Magazine
Founded in 1848, the brand has a reputation for quality craftsmanship, particularly in fashioning gold and silver filigree.
Located in Vancouver's 'Luxury Zone,' Shanghai-based jeweller Lao Feng Xiang is China's oldest jewellery company.
The Masters
Five generations of master craftsmen are Lao Feng Xiang's backbone—the keepers of its rich history and tradition. They are the creative source of the company's longevity and its progress, allowing the company to grow to its current network of over 3,000 retail stores in China, as well as locations in Sydney, New York, and Vancouver.
The Future
Renowned for its 24-karat-gold and jade creations Lao Feng Xiang also has a long history working with silver, platinum, and diamonds. More recently, the company's collection has expanded to include nephrite, jadeite, pearl, coloured stone, ivory sculpture, enamel, 18K glasses, and more. The brand has also recruited young designers to build on its classic pieces with more contemporary offerings.
Tradition Meets Trend
Among the brand's traditional pieces are those that feature the company's emblem, the mythical phoenix, reborn from its ashes after succumbing to a fiery death. A stunning accompaniment to a barely-there summer wardrobe, Lao Feng Xiang's Dragon and Phoenix Bangle Bracelet is hand carved from 24K gold, balancing trend and tradition with strong modern lines and detailed craftsmanship.
Likewise, the line's Nephrite Bamboo Pendant features an architecturally shaped nephrite counterbalanced with the delicate details of 39 round brilliant-cut diamonds and an 18K-gold setting to embrace the stone. Also on-trend for summer—yet timeless—are Lao Feng Xiang's collection of tourmaline rings. Offered in an array of colours and settings, these coloured pieces brighten even the sunniest summer day.
Visit Lao Feng Xiang in store or online to view more ways to add some old-world luxury—or modern finery—to your jewellery collection.