Enchantment: The Breathtaking 24k Gold Jewelry Collection Inspired by Nature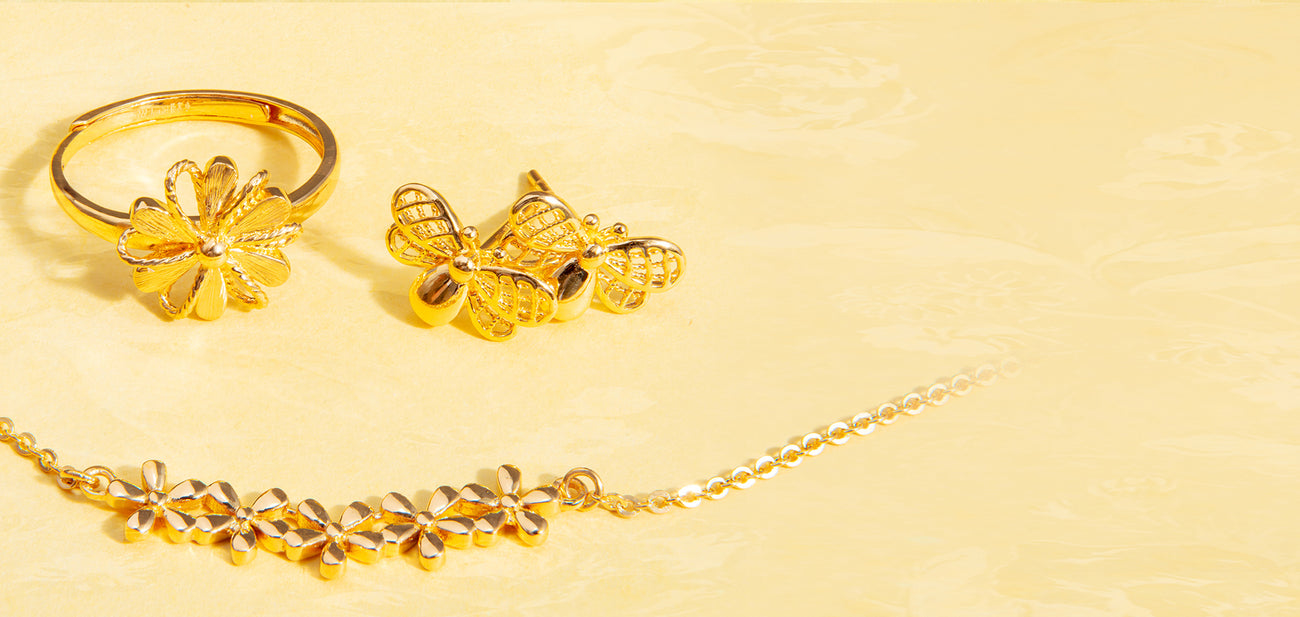 In the world of fine jewelry, few things can rival the enchantment of 24K Gold. It has captivated with its radiant beauty and timeless elegance. And when combined with the mesmerizing elements of nature, it creates an enticing fusion that truly transcends ordinary craftsmanship. Lao Feng Xiang Jewelry, a renowned name in 24K Gold Jewelry, unveils its collection Enchantment. Inspired by the ethereal beauty of flora and fauna, this collection showcases Lao Feng Xiang artisans with whimsical and delightful designs in lustrous 24k Gold. Delve into the enchanting world of this extraordinary collection and discover the magic it holds. 
Nature has always been a boundless source of inspiration for Lao Feng Xiang artisans. With its vibrant colors, delicate patterns, and breathtaking forms, the world of flora and fauna offers endless possibilities for artistic interpretation. The Enchantment collection draws upon this magnificent realm, capturing the essence of flowers, leaves, butterflies, and other elements of nature in a stunning display of artistic brilliance. 
Each piece in the Enchantment collection is meticulously handcrafted by the skilled craftsmen of Lao Feng Xiang. Their mastery is evident in every intricate element of the designs, ensuring that each piece is a testament to their unparalleled craftsmanship. The collection featuring delicate necklaces and earrings to whimsical bracelets and rings creates breathtaking harmony between nature's beauty and Lao Feng Xiang artistry. 
Imagine delicate blossoms in full bloom, intricately crafted in radiant 24k gold. Necklaces and earrings feature beautifully sculpted flowers, with petals adorned. Creating a sense of movement and fluidity. While insects and butterflies, and other whimsical creatures come to life in this collection. Rings and bracelets depict these charming creatures in flight, with wings gracefully spread and bodies adorned with intricate patterns. Each piece captures the essence of nature's most captivating inhabitants. 
The Enchantment collection is crafted in pure 24k gold, ensuring the highest level of radiance. Known for its luxurious hue and timeless appeal, 24k gold serves as the perfect canvas for the intricate designs of this collection. The warm glow of gold complements the organic beauty of nature, resulting in jewelry pieces that are as captivating as they are enduring. 
Enchantment by Lao Feng Xiang is not just a collection; it's a testament to the timeless elegance and luxury that gold jewelry embodies. With its meticulous craftsmanship, inspired designs, and the inherent beauty of 24k gold, this collection showcases the perfect blend of artistry and nature's allure. The Enchantment collection by Lao Feng Xiang brings the magical world of flora and fauna to life.