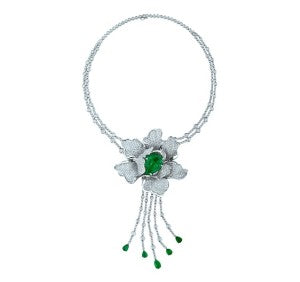 EMERALD…..MAY'S BIRTHSTONE AND ONE OF PHAROH CLEOPATRA'S FAVORITES!
Considered the gem of spring, Emerald's beautiful blue green hue has entranced mankind for almost 3 billion years!
Emerald is considered part of the "Precious Four" gemstones including Ruby, Sapphire and Diamond.  Coming from the Beryl family as Aquamarine, Emerald is a relatively hard gemstone (rated 7.5-8 on the Mohs scale) having a fairly good toughness. However, this gem requires more care when wearing than sapphire or ruby.
WHAT DOES IT TAKE TO BE GRADED AN EMERALD?

It's all about the color of green…many experts don't agree exactly when the color is dark enough to be considered an Emerald.  Lighter green beryl has been called Emerald by many but in fact these gems are green beryl and that is where the disagreement continues.  GIA uses lab-graded comparison stones to determine if the green color is dark enough and saturated enough to be called Emerald.
WHERE IN THE WORLD DO EMERALDS COME FROM?
Columbia is a relatively new source for emeralds but the most recognized by name. As far back as 3500BC the first known Emeralds were being mined in Egypt.  Israel is known for its Emerald cutting expertise and in Brazil the Belmont Emerald Mine is one of the most sophisticated and eco-friendly color gemstone mining operations.  The Panjshir Valley in Northern Afghanistan produces some of the finest quality emeralds in the world.
Did you know, Emerald is also the gem of the twentieth and thirty-fifth wedding anniversaries?
CARING FOR YOUR EMERALD JEWELRY

Emeralds with no inclusions are very rare and are often worth more than diamonds.  A large percentage of natural Emeralds are heavily included and a majority are fracture-filled.  This makes cleaning your Emerald jewelry in an ultrasonic or by steaming quite unsafe.  The vibrations created in an ultrasonic environment can weaken these fracture-filled gems and the extreme heat from a steamer could cause oils or resin used to fill the fractures to liquefy.  Using warm, soapy water together with gentle scrubbing is the safest way to clean Emeralds.
Emeralds are beautiful stones for all types of jewelry and with proper care will last for generations….
Did you know the green in Emerald is caused by chromium?
Whether imagining Dorothy's Emerald City of Oz "where the high walls were a bright florescent green color and studded in countless numbers of glittering Emeralds" or the rugged shores of Ireland's beautiful Emerald Isle "where the land is lush and the richest of greens"…
One thing we do know, the vividness of Emerald green has inspired and excited mankind for generations, providing the ability to insight, evoking tranquility, wisdom and extreme serenity.