Vancouver Sun: China's prosperity reflected in sales of B.C. jade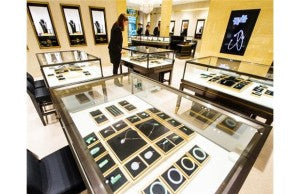 From Vancouver Sun:
For as long as history has been recorded in China, jade has been a treasured component of Chinese decorative arts.
It has been used in ornaments, religious ceremonies and jewelry and over the centuries has come to symbolize beauty, purity and fortune.
In China, jade isn't a just a gem, it's a tradition, says Katherine Xu, vice-president of Lao Feng Xiang Canada, the Canadian branch of the Shanghai-based jewelry-retail giant (LFX). …
LFX, which opened its first Canadian location on Alberni Street in September, features the gem prominently in its 2,400-sq.-ft. showroom (most items displayed are from jade mined in Asia, although officials said they are pursuing opportunities with B.C. jade). Xu said Chinese demand for jade has skyrocketed in the last decade as income levels in China soared, giving many middle-class consumers the resources to follow through on the long-held cultural desire to own jade. …