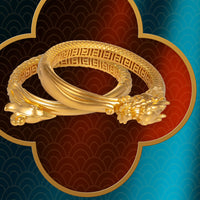 Reimagined in Antique Gold
Introducing our 24K Antique Gold Anniversary Sale Collection—an exquisite ensemble that transcends time and tradition. Each piece in this collection is a masterpiece of craftsmanship, meticulously reimagining iconic symbols from our heritage into timeless works of art. These treasures invite you to adorn yourself with elegance and celebrate our 175 years of excellence.
Traditional 24K Gold
Our original 24K Gold Traditional Collection stands as a tribute to the very craftsmanship that laid the foundation for Lao Feng Xiang, and which we continue to uphold today. These remarkable pieces are born from the same time-honored techniques and dedication to precision that characterized our earliest creations. Each item in this collection echoes with the legacy of our original artisans, reflecting their unwavering commitment to the art of transforming symbolic motifs into breathtaking jewelry crafted from pure 24K gold.