A Golden Investment: Celebrating Prosperity with 24K Gold Jewelry and Ornaments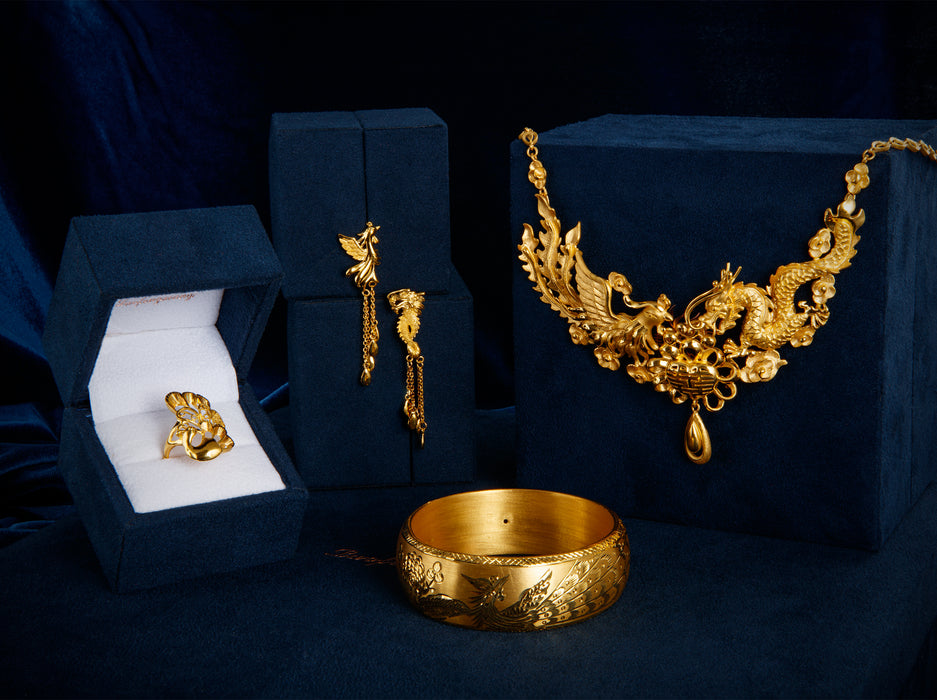 Since 1848, Lao Feng Xiang has continued the longstanding relationship between jewelry and investment. With an extensive collection of 24-karat pure (999.9) gold jewelry that celebrates life's greatest milestones, Lao Feng Xiang also allows one to gift and own pure gold. Offering an unprecedented combination of timeless memories and economic value.
Over the past five years 24K gold has risen by 46% and analysts predict it will continue to rise beyond 2021. It is an attractive opportunity for jewelry connoisseurs with its natural scarcity, exquisite physical characteristics and wealth storage potential. Being strategic when purchasing gold is important when maximizing gold investments, you should watch for gold fluctuation and the currency exchange rates. Last May the average gold price per ounce was $1,750 USD/$2425 CAD, this year the average gold price per ounce is $1,830 USD/$2230 CAD. This allows for a $195 CAD saving per one ounce of gold. Even with a rising market value a drop in the US dollar makes it is an ideal time to buy gold jewelry and ornaments.
Lao Feng Xiang transforms 24K gold into meaningful heirlooms that hold intimate memories and monetary value. From the personal purchase to celebrate one's success, to golden gifts that celebrate love to the precious keepsake honoring past traditions, milestone jewelry and ornaments are proudly worn with value that will endure. Explore the world of Lao Feng Xiang milestone and investment jewelry.
Celebrating Success with 24K Gold Links and Pendants
Synonymous with luxury and prestige 24K gold link chains and pendants are a bold show of wealth and success. No longer is the status watch the first purchase to celebrate a personal or professional milestone, that honor is now reserved for heavy gold necklaces and pendants. Starting at gold weights, 30g and up, these pieces can be worn while still maintaining its economic benefits.
Something Gold
Si Dian Jin 四点金, means the "four touches of gold" and is a tradition that originated from the old dynasty. A betrothal gift set compromising of 24K gold earrings, necklace, bangle and ring, it was presented to the bride from the groom's family as a promise to always take care of her. Designed to feature the Dragon and Phoenix or Peony and Rose, the sets were heavy and started at 0g. Due to gold's monetary value, the larger pieces were a show of opulence and generosity, to this day the tradition continues with the jewelry becoming precious heirlooms.
Baby's First Gold
The 100-day birth celebration is a joyous occasion that represents the family and friends wish for a long life of 100 years. Traditionally the baby will receive 24K gold gifts of longevity locks and baby bangles that offer blessings of good fortune and luck. The gold baby jewelry honors the past tradition of longevity locks to ward off evil spirits while also gifting the baby a valuable precious metal.
Precious New Year Traditions
Starting the new year with 24K gold is a long-standing tradition. The financial benefit of gold makes for an attractive gift and Lunar New Year is often the year's busiest gold buying season. Those looking to ensure luck for themselves and loved ones will be busy buying gold jewelry and ornaments. With increased demand comes a premium price and buying after Lunar New Year helps to maximize your gold purchase.