Eastern & Western Wedding Gift Ideas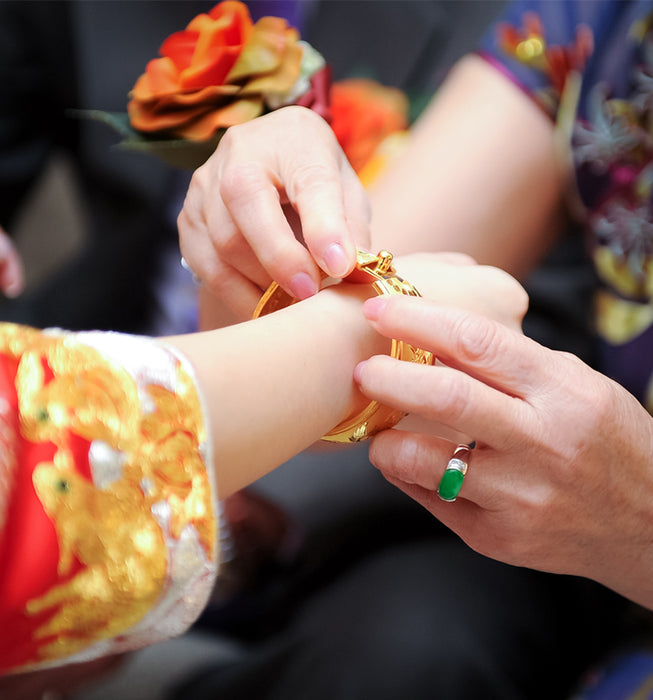 Attending a Chinese wedding this spring or summer?  You are most likely wondering what an appropriate wedding gift might be as gifts play a huge role in traditional weddings, whether they are exchanged between the bride and groom's families, or directly to the newlywed couple.
While there is no one typical wedding gift, items for home are always appreciated and items containing wedding symbols such as  the "double happiness" and the Dragon and Phoenix.
Our range of products blends traditional blessings with contemporary sophistication.
24K Gold Traditional Dragon and Phoenix Wedding Dress Set
Giving money is impersonal.  Stand out in the eyes of the bride and groom with these 24K solid gold traditional wedding dress bars.
Men's traditional dress 24K gold bar: 9 grams/ $940.00
Female traditional dress 24K gold car: 7 grams/ $730.00
Double Happiness Jewelry Set
The etymology of "double happiness" represents the greatest blessing in Chinese weddings and symbolizes the blissful union of husband and wife.
24K gold necklace: 7.30 grams
24K gold earrings: 5.30 grams
Matching 24K gold ring (not shown): 5.50 grams
24K Gold Dragon and Phoenix Bangles
The symbol of Dragon – male (yang) and Phoenix – Female (yin) symbolize everlasting love and marital bliss.  Many married couples will keep an image of the dragon and phoenix in their home as this represents prosperity, success and blessings for many male offspring.
24K dragon and phoenix bracelets starting from $1,000
Pear Shaped Diamond Set
This classic pear-shaped diamond set is the perfect gift for a daughter on her wedding day.   It will perfectly compliment the brides wedding gown, making her feel like royalty while she walks down the runway to meet her prince charming.
18K  diamond pendant: $3,180
18K diamond earrings: $3,190
Matching 18K diamond ring (not shown): $3,420
"Nine Treasures" Box
Usually given by the bride's older relatives, the box contains 8 auspicious pieces of jewelry, with the 9th treasure being the box itself:
A scale symbolizes the beginning of marital bliss, a mirror reflects the bride's beauty, a basket represents abundance, scissors symbolize the making of clothes for the new family, an abacus imparts financial acumen, embroidered shoes represent fidelity and harmony, a comb recalls a hair-combing ritual, a ruler is used to measure happiness and count one's blessings and the box itself carries good luck and wishes!
Priced at $8,999
Akoya Pearl Strand
The refined elegance of pearls makes them the perfect addition to any wedding dress.  A wonderful heirloom gift for your daughter on her wedding day.
Akoya pearls are renowned for their incredible luster and are considered the classic pearl. They are smoother and rounder than Freshwater pearls.
6-6.5mm Akoya pearl strand: $2,530
Freshwater pearls strands starting at $200
24K Gold Jewelry Box
From the day a daughter is born, families start preparing wedding gifts to show love and honor.
This 24K gold handmade fine jewelry box is decorated by phoenix feathers and makes a beautiful addition to a daughter's room.
Jewelry box: 54.57 grams
24K Gold Baby Bathtub Set
This traditional baby bathtub set is a great betrothal or dowry  gift.  It is a popular gift set to replace the traditional full-size wood bathtub and sends wishful thoughts for a new baby for the newly married couple.
Baby bathtub set: 239.27 grams
Pink Tourmaline Bridal Set
Another wonderful gift for a daughter.  On her wedding day, a daughter deserves to shine.  This stunning rare pink  tourmaline set will help her shine brighter while she takes her first dance and begins life with her new husband.
18K diamond and pink tourmaline pendant: $18,600
18K diamond and pink tourmaline ring: $20,500
18K Jadeite Pendants
The gift of jade represents protection, health and strength for the new couple which makes it a valuable gift.
Jade pendants from Lao Feng Xiang Jewelry, start at  $1,500
24K Gold Phoenix Set
Welcome a new bride as a treasured member of your family with a gold jewelry set like this beautiful hand-crafted 24K gold phoenix set from Lao Feng Xiang Jewelry.
24K gold phoenix necklace: 68.15 grams
24K gold phoenix bracelet: 26.66 grams
24K  gold phoenix ring: SOLD
24K Gold Wedding Money
For those looking for a more inexpensive gift option, we offer 24K gold money which comes beautifully packaged in a red sliding paper box.
Gold money: 2 grams/ $158