December Birthstone – Tanzanite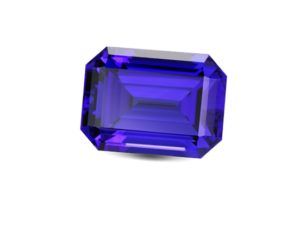 TANZANITE
When we look back in history to learn about myths and lore of a gemstone, usually we can quote ancient Egyptians or Romans…..well not with Tanzanite.
The Discovery
It all began with a lightning strike and grass fire…..In 1967 a prospector had heard of beautiful sapphires being discovered in northeastern Tanzania.  While searching, he was led by local Masai natives to an area in the region of Merelani Hills near Mount Kilimanjaro and there he found his precious blue stones…but they weren't Sapphire as he hoped but something even more exciting!
Did you know?  In 2002, the American Gem Trade Association chose Tanzanite as a December birthstone, the first change to their birthstone list since 1912. 
Initially called blue ziosite, the name Tanzanite was given by Tiffany & Co., after the country it originated from.  Made famous by brilliant marketing campaigns, Tanzanite became an "overnight sensation" with jewelers, designers and customers having an eye for rare and beautiful gemstones. Tanzanite's rich velvety blue can be as beautiful as a Kashmir sapphire.  The value can be quite high in these color tones, just a little less than the sapphire it resembles.
For those of you who didn't experience the 60's, just what was happening in 1967?
Canada celebrates its 100th
The Doors released their debut album "The Doors".
"A Fist full of Dollars" film was released which was the most significant spaghetti western ever.
The American Basketball Association is formed.
The first "Boeing 737" takes flight.
The Toronto Maple Leafs win the Stanley Cup.
The Beatles release "Sgt. Pepper's Lonely Hearts Club Band.
Walt Disney's "The Jungle Book" is released and is a box-office success.
Expo 67 opens in Montreal, Quebec.
The "Summer of Love" is held in San Francisco.
Did you know?  Tanzanite gemstones are over 5 million years old and rarer than diamond!
Caring for your Tanzanite Jewelry
Measuring 6-7 on the MOHS hardness scale, Tanzanite is a softer gemstone than sapphire and must be handled with care when setting and when wearing.  Avoiding the ultrasonic cleaner is recommended as it is sensitive to sudden temperature changes and also has a low resistance to ultrasound.
When wearing Tanzanite in a ring setting, over time the gem will become abraded and the facets blurred.  Wearing your ring for special occasions is suggested to preserve the longevity of the gemstone, given the proper care it can last a long time…
Did you know?  In nature, tanzanite is rarely found in blue hues.  More often golden to brown colors but heating this gem to 600 degrees Celsius and gradually cooling, the color could be permanently changed to violet blue.  Otherwise it is relatively unmarketable.
We've mentioned how rare this gemstone really is.  Deposits are beginning to get harder to find making Tanzanite highly desirable to collectors worldwide for one reason only….it will only continue to increase in value and become a very important family heirloom!