Innovation Balances Artistry with Lao Feng Xiang's 5th Generation 24K Gold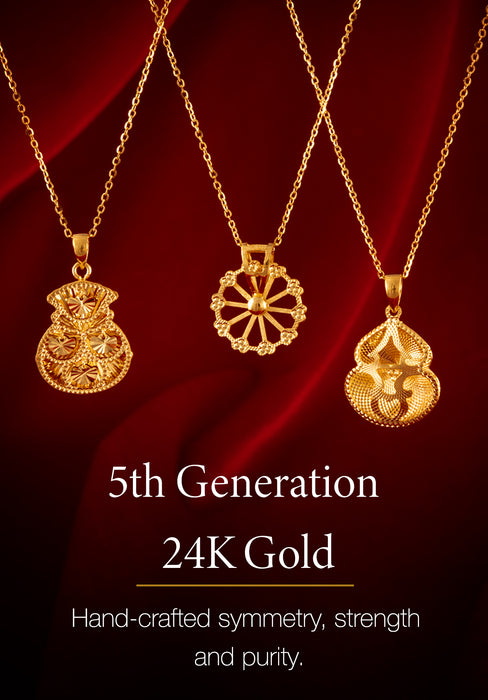 Since 1848, Lao Feng Xiang Jewelry has transformed 24K Gold into exquisite fine jewelry and elevated the brand's reputation for leading the industry in gold fabrication. 5th Generation is the latest advancement and the newest collection captures the artistry of the old dynasty with five extraordinary innovations.  
Minimal Gold for Maximum Detail 
5th Generation gold is the spark that ignites the imagination of our artisans and craftsmen who can now create intricate fine jewelry using a minimal amount of gold. These light weight and complex pieces bring a finesse and beauty that was once reserved for high weight jewelry. 
Strength In Minimalism 
The collection has a whimsical air to the delicate jewelry. Each piece has been designed to heighten the beauty of the gold with milgrain edges and finely textured finisheses. They were also crafted to be an everyday piece, despite the low gold weight. Affordable luxury that can be worn daily. 
Pure Innovation
Loa Feng Xiang's enduring commitment to the purity of 24K gold is what guides the innovation of all fabrication, including 5th Generation. This extraordinary technique ensures that artisans and craftsmen never sacrifice the purity of the gold for complex jewelry. Each and every piece from this exquisite collection is stamped 99.9
Golden Shine
Never has 24K gold shined as bright as in Lao Feng Xiang's 5th Generation collection. Each piece has been expertly polished to enhance the luminance of the most precious of metals. 
Symmetry in Design 
Lao Feng Xiang's approach has always been to capture the essence of the old dynasty with designs that are beautiful and meaningful. 5th Generation 24K gold fabrication allows for artisans and craftsmen to balance dimension with beautiful proportions.