Press Release: Lao Feng Xiang Jewelry Opens at Richmond Centre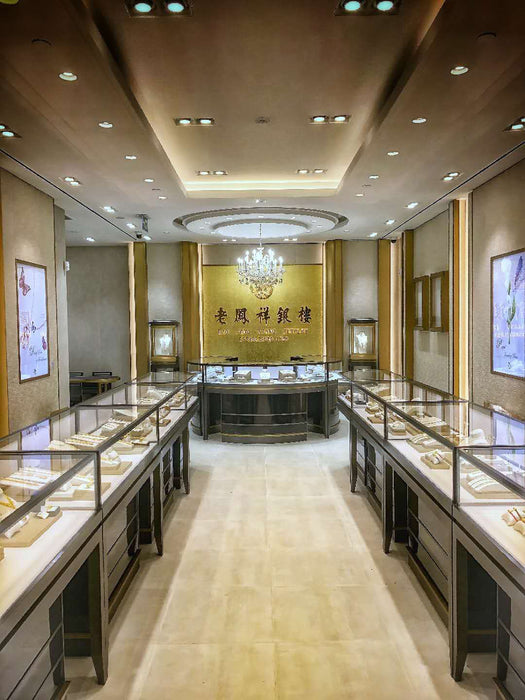 Lao Feng Xiang Jewelry Opens Second Store in Vancouver
Chinese Luxury Jeweler celebrates its Grand Opening of Richmond Centre Store
Vancouver, BC (August 2, 2020) - - Lao Feng Xiang Jewelry Inc. announced the grand opening of its second Canadian location on August 7th 2020. The new store is in Richmond Centre, a premier shopping destination in Canada and located at 6551 Number 3 Road. Owned in equal partnership with Cadillac Fairview and Cambridge Ivanhoe, Richmond Centre's impressive interior architecture was renovated in 2012. The mall boasts over 766,000 square feet in retail selling space and the Retail Council of Canada ranks Richmond Centre the 8th most profitable mall in Canada with $1060 in sales per square foot.
The new Lao Feng Xiang Jewelry store features the iconic phoenix wall. A symbol of rebirth and the brand's long history of expansion, innovation, and craftsmanship. Lao Feng Xiang's elegant double glass doors will open to an intimate and elegant jewelry salon, with an exquisite crystal chandelier, stainless steel showcases and dark wood furnishings. Guests will be transported to the sophisticated Shanghai flagship boutique.
Lao Feng Xiang Jewelry opened its first Canadian boutique in 2015 and has since established itself as Vancouver's premiere 24K gold and jadeite destination. With a growing customer base, the brand is thrilled to offer a second location at Richmond Centre. With its convenient location and ideal atmosphere, Lao Feng Xiang will serve its clients with superior quality, craftsmanship, and design excellence.
The new store has an expansive collection of Lao Feng Xiang jewelry. Among them are reimagined symbols of the old dynasty in 24K gold, nephrite, jadeite, and modern designs using the finest diamonds, pearls, and gemstones. Each piece hand-picked from Lao Feng Xiang's extensive assortment from Shanghai and features an impressive exclusivity. The Richmond Centre customer will be surprised and delighted with each in-store experience.
Lao Feng Xiang also operates a store at 1016 Alberni Street
About Lao Feng Xiang Jewelry
Lao Feng Xiang has been in business for 172 years and has a rich tradition in China's jewelry industry and culture. Lao Feng Xiang's name consists of three important Chinese characters representing the beautiful and fortunate Phoenix. The Phoenix is important in Chinese culture - the bird rising from the ashes symbolizes rebirth.
In 2019 LFX was ranked as the world's 15th largest luxury goods company overall.  Renowned for its unique craftsmanship in 24 karat gold and Jadeite, Lao Feng Xiang Jewelry, is bringing luck, fortune and royalty to the Vancouver market.