The New Status Symbol - 24K Gold Men's Chain and Necklaces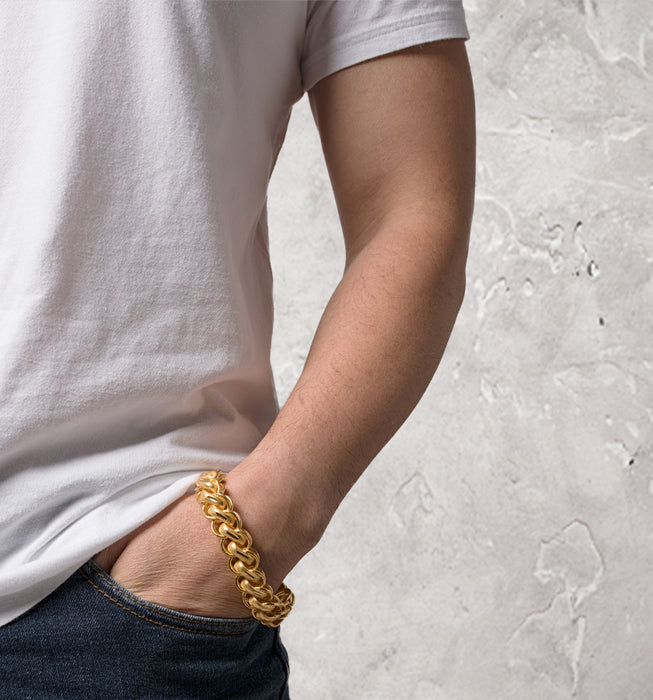 Over the recent year's jewelry has become a staple in every stylish man's wardrobe. From influential sports and entertainment stars to the most prestigious fashion houses, heavy chains and necklaces are worn with pride. A showcase of wealth and power in the finest of precious metals. 
With shining maximalism replacing the prestige watch as the ultimate show of status, Lao Feng Xiang has put together a list of five essential 24K gold chains and necklaces.
1. The Staple - Cuban Link Chain 
One of the most popular and versatile chains, the cuban link has been seen on the most stylish sports and entertainment stars. One of the most famous and well known necklaces, is Jay-Z's 5kg cuban link which is often seen on stage and layered with other chains and pendants.
Lao Feng Xiang hand-crafted cuban links come in a variety of widths and lengths. While the majority of necklaces are hand-crafted using hollow links, the brand has fabricated custom design pieces in solid 24K gold of up to 300g.
2. The Traditional - Diamond and Bead Link Chain 
Inspired by the old dynasty, the alternating diamond cut and round bead necklace comes in an assortment of designs and sizes. Each necklace is a unique and modern appreciation of an imperial legacy. 
With 24K gold alternating diamond cuts and beads, these links are intentionally crafted in a wide width to add a statement. Look to pair with a popped collar, or a v-neck t-shirt. Because of the wider width, these necklaces are best worn alone and at 20"-22" lengths.
3. The Modern - Bead Link Chain 
A simple and modern style, bead links most commonly come in 7-8mm hollow beads. Because of it's simplicity this necklace is the perfect piece to wear layered at any length. 
Lao Feng Xiang is the authority in 24K gold and housing legacy craftsmen, the brand has the capability to fabricate the links at any bead size and length. Finding the right style balance is individual and Lao Feng Xiang can create bead links from 5MM -12MM and above. 
4. The Classic - Rope Link Chain 
Minimalistic, the rope chain is another versatile necklace. It is often worn with a statement pendant as the chain's simplicity adds balance and symmetry to a look that can easily become overwhelming. It is also a smart layering piece, as the necklace blends well with others. 
Recently, the most influential have been wearing this classic chain thick and alone. For those who want the prestige of 24K gold neckalces but have a low-key style, a thick rope chain is subtle and effective. 
5. The Innovation - Antique Gold Necklace
Antique gold is an innovative fabrication technique that maintains the purity of 24K gold, while altering it to create an astounding brownish-gold color and an intriguing texture. Fashioned on a black silk cord, the dark necklace and gold pendant creates a masculine look.
Lao Feng Xiang interprets past symbols to create personalized self-expressions. Using the majestic dragon for many pieces, this unique gold fabrication technique brings it to life with incredible design and detail. Solidifying Lao Feng Xiang as the industry standard in 24K gold. 
24K Gold is part of Lao Feng Xiang's DNA and we have been leading the way for over 170 years. The Vancouver boutique, located on 1016 Alberni Street is proud to be the destination for men's 24K gold link chains. To view a current piece in our collection or to speak to one of our experienced sales professionals about custom design, please contact us at alberni@lfxjewelry.ca