Reimagining the Traditional for Lunar New Year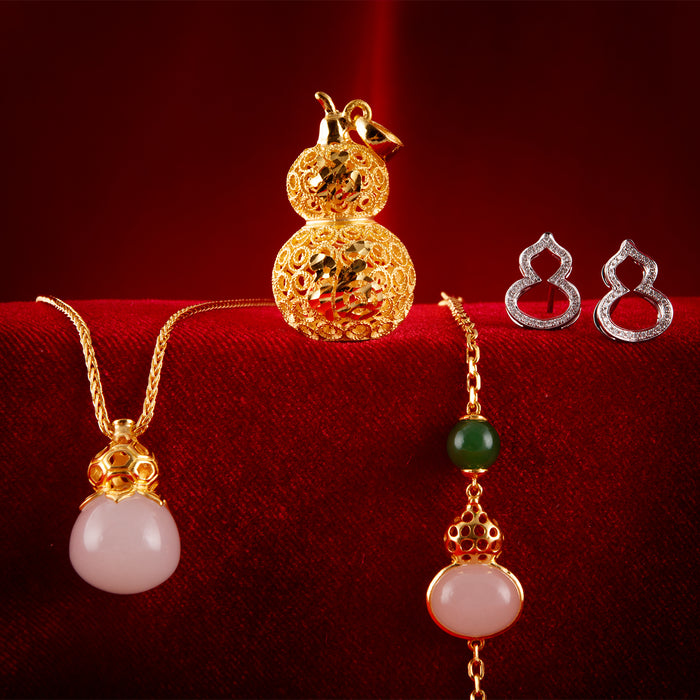 Lao Feng Xiang presents contemporary fine jewelry that transforms the symbols from the old dynasty. Capturing the innovation and artistry of that majestic time and inspiring a new generation to honor past traditions and celebrations.
The Dragon and Phoenix

A love story that spans generations, the Dragon represents "yang" and the Phoenix is the "yin". A beautiful balance of bliss and harmony, which is perfectly captured in Lao Feng Xiang's 24K Antique Gold tag necklaces. Stunning on their own and incredibly powerful when worn with a love.
The Hulu

With a pronunciation that is very similar to fulu (福禄) which means happiness, good fortune and prestige, the Hulu is worn with intent. Choose from Hulu designs in nephrite, 24k gold and diamonds.
The Pixiu

The auspicious Pixiu is a mythical creature with a dragon head, a horse body and unicorn claws. Known for it's appetite for precious metals and coins the Pixiu wards off evil spirits and brings good fortune. Lao Feng Xiang presents a collection of Pixiu's in a variety of styles that can be worn on a beaded or knotted cord bracelet.
The Golden Fish

The Golden Fish represents wealth and prosperity because the word in Chinese for fish, Pinyin: yú, 魚, also translates to "abundance" 裕. Make Lao Feng Xiang's Golden Fish bracelet your own with a hand-picked ingot or floral charm on a knotted cord or beaded bracelet.